Fate Roleplaying Game SRD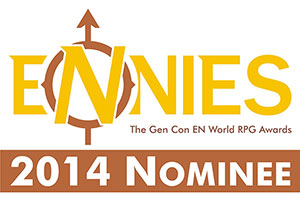 Thank You for Voting for us in the ENnies!
The 2014 ENnies results will be revealed on Fri, Aug 15. We'll be at the awards dinner, so follow us on Twitter and be the first to find out the results!
Fate Resources At Your Fingertips
The purpose of this site is to be a friendly, searchable, bookmarkable home for the Fate Roleplaying Game System Reference Document (SRD). For more information about the site, see the about page.
Fate Core
Fate Core is a dynamic and flexible roleplaying game built around proactive characters that you play. Fate Core does not have a default setting to encourage all styles of play.
Fate Accelerated (FAE)
FAE is a grab-n-go version of Fate, written for easy prep and easy play. Don't let that simplicity fool you, use these rules to run any style and any length campaign.
Fate System Toolkit
This toolkit is provides examples on when to—and when not to—hack the system to create your own rules. It includes many ideas that can be used wholesale or as inspiration for your own games.